July 7th, 1963 Lake Garnett Race Coverage from the Kansas City Star
Most of the coverage centered around a riot that happened Saturday night before the race, but there is still a few pictures and descriptions. I will start with the race results and work backward through the week.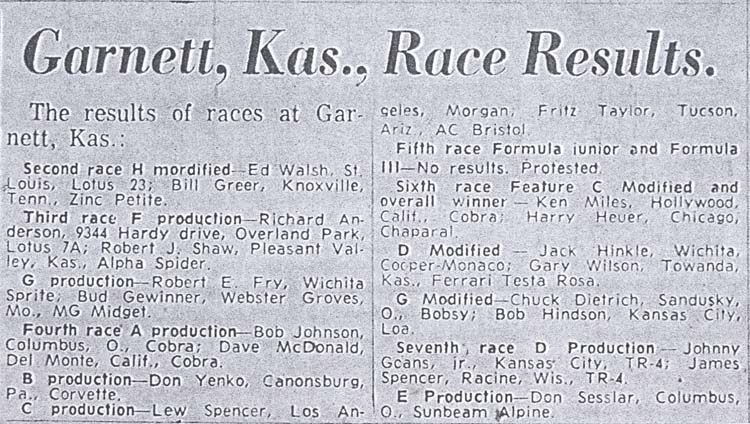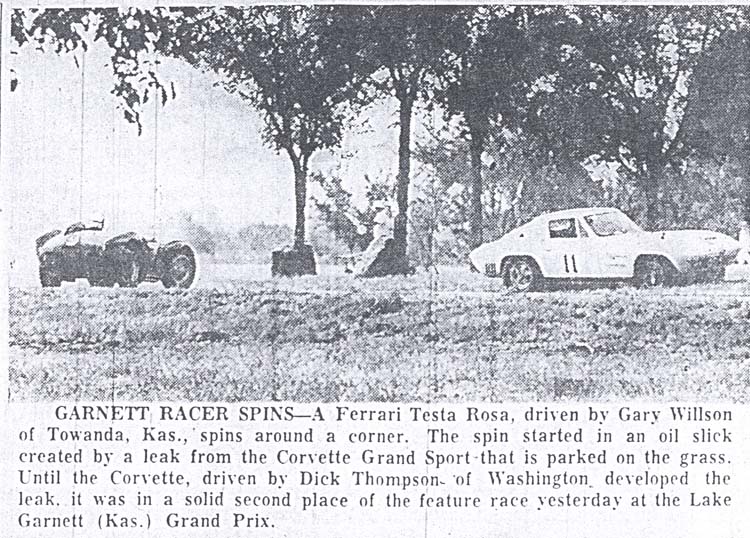 From the Kansas City Star, Monday, July 8th, 1963
Cobra Fords Rule Garnett Track
Garnett, Kas. -- A mongoose might have beaten the Cobras yesterday; none of the sports cars competing here could.
In their first appearance at the fifth annual Garnett Grand Prix sports car race, the AC Cobra Fords simply ran away from everything on the track. Both top feature races were won by the cars which have been racing only nine months.
With 65,000 persons watching in 90 degree weather, Ken Miles of Hollywood, Calif., outpoled every car in the feature race.
He finished ahead of Harry Heuer, Chicago, driving a Chaparall, and Jack Hinkle, a Wichita banker, driving a Cooper Monaco Ford.
The victory earned Miles the overall trophy as best driver.
But the big stars were the Cobras. Four of them were lined up in the first three grid positions of the A, B, and C, productions in the 4th race.
They tore away from a standing start and when it was over they had lapped every car but one, a Corvette Sting Ray, driven by Dr. Dick Thompson, Washington, D.C.
The Cobra's victory had been anticipated by Bob Johnson's crew. Johnson, from Columbus, O., won the A production race. On the infield, before the races, his crew placed a headstone on a freshly dug grave. Beneath the head of a grinning Cobra, the epitaph read: "Here lies the Sting Rays." A spray of flowers (Lotus, of course) completed the funeral effect.
Johnson's victory was postponed when Harvey Woodward was forced to drive his Elva Mark 6 in the Garnett lake. Woodward, who lives at 4115 West Fifty-fourth terrace, Roeland Park, said that as his car approached a chicane (an artificial barrier set up to slow the drivers) on the back straight away, his throttle apparently stuck.
To avoid colliding with cars jammed up at the chicane ahead of him, Woodward said he cut right.
His car, traveling at about 80 m.p.h., flew about 40 feet and landed right side up in the lake.
"It went in as smooth as a skiff." Woodward said.
As the car started to settle in the water, Woodward released his safety belt (he estimated he was 10 feet deep then) and swam to the top. His car continued down another 30 feet.
A hot sun shining on the asphalt made the course slick. Miles said that braking was extremely difficult on four corners of the track where oil had been spilled.
"The last 15 laps I had to coast into corners or risk a spinout." he said.
The only accident resulted not because of a slick track, however, but because of sticky brakes.
Mrs. Phyllis Kiser, driving in the Production G race, said that as her car approached the flat iron turn in her third lap, the brakes stuck sender her car sideways and flipping it over. She suffered minor cuts and bruises. The race was stopped and restarted.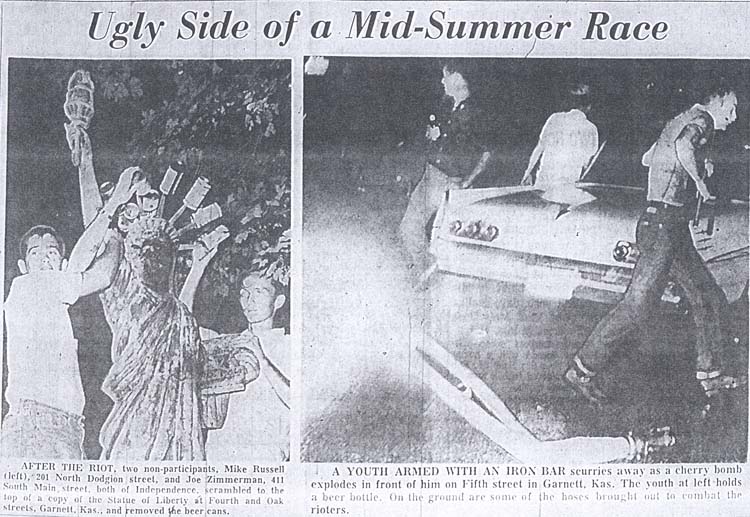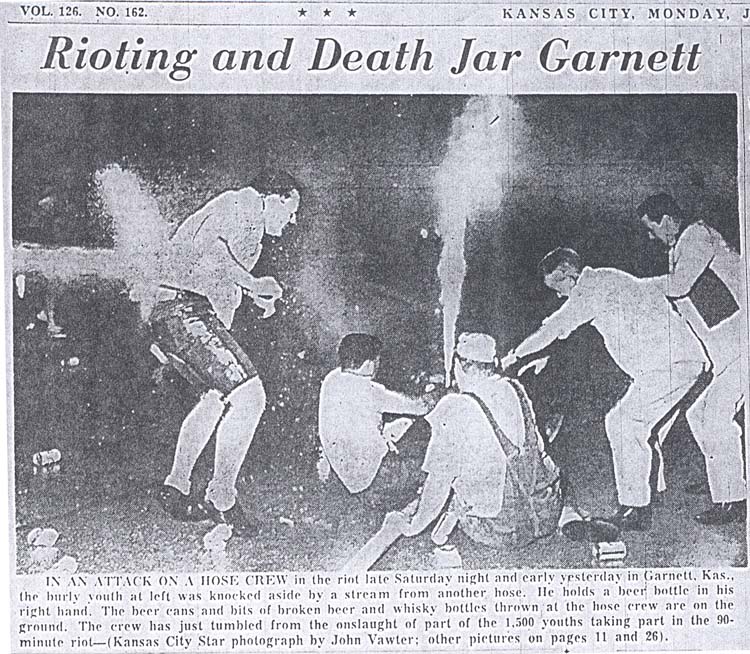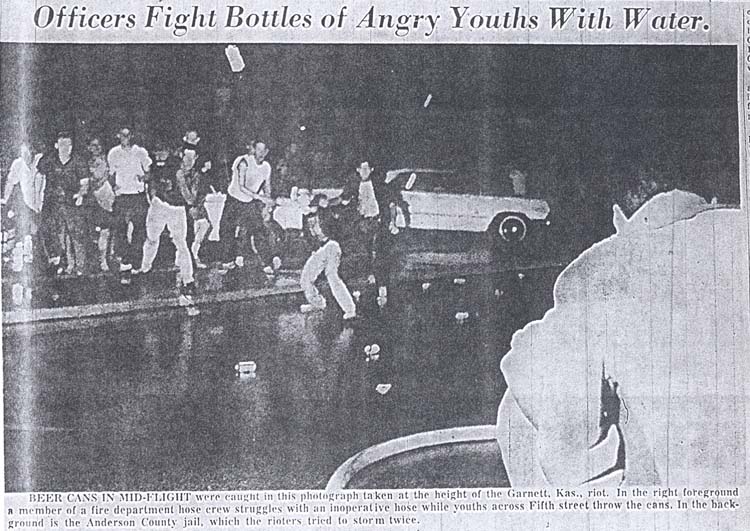 By James J. Fisher
Garnett, Kas. -- Dawn broke quietly here yesterday after a wild night of rioting.
This was the scene: One policeman dead of a heart attack suffered at the height of the riot. 15 persons were injured and 26 youth were in jail. This town of 3,000 persons is still wondering what happened.
Square is Littered.
Fourth and Fifth streets, the north and south borders of the peaceful town square, were littered with broken beer and wiskey bottles, beer cans, stones and bricks. A faint odor of tear gas clung in the air.
As the sun rose and the heat of the day began, the 26 youths arrested late Saturday night and early yesterday were arraigned in the kitchen of the Anderson County jail.
Judge Charles Lybanger set bonds for most of the youths at $100 for disorderly conduct. Two youths were charged with resisting arrest; another with impersonating a police officer and drawing a gun on a group of youths. Most made their bonds and were released. They will appear in court here July 12 and 16.
Body Taken Home
As the first sounds of racing cars came from Lake Garnett sports car track a mile north of town, the body of Capt. Robert C. Cowdin, 42, of Ottawa, Kas., police officer and father of three children was put into an ambulance and begain the trip back to Ottawa for burial.
At the same time most of the 140 officers brought into Garnett began to leave town.
Cowdin, carrying a tear gas gun, had stopped to talk to some youths at the south door of the Anderson County courthouse. The riot was at its height. The time was 12:40 o'clock.
"He sat and talked to them for a minute and when he stood up he took a few steps forward and keeled over." said Jerry Hinger, a special deputy with Cowdin.
Cowdin was pronounced dead shortly before 1:30 o'clock at the Anderson County Hospital. The cause was apparently by a heart attack.
Youths Are Blamed
"The direct cause of the death of Capt. Cowdin," said William Gadelman, Anderson County Sheriff, "were youth who precipitated the riot and the ones that went along with them. What the state of Captain Cowdins health was is of no consequence. He died because of this riot and these young people should remember that."
As the youths were arraigned, their faces were a mirror of their feelings, Some seemed tired; others sullen. Some joked. One youth, 17 years old and unable to raise the bond, had a bloody nose and his eyes were misted.
"Only one", said Wayne Loughridge, county attorney, "only one , showed any volition to admit what had happened. He said the booze got the best of him. He volunteered that."
The riot of the 2,000 beer drinking youths against a few officers marred the final day of races yesterday. The riot was on everyone's lips. Many of the sports car drivers were angry.
Change Of Emphasis
"They messed the whole thing up," said a driver from Lime Rock, Conn. "Now this will be known as the Garnett riot rather than a sports car race."
Some doubted that the sports car races could continue after this year. Gwinn Shell, mayor of Garnett, said the riot "left a bad taste in the mouths of our citizens and, personally, I doubt if this will be held again."
Others however, believed the bad taste would be forgotten.
Story Is Told
For those who were there, the riot this weekend will be a long time dying from their minds. This is the way it was:
10:45 o'clock. The town square was jammed with youths, most of them drinking beer from cans outside the Brown Jug and the Spot on Fifth Street. They had for the most part, been drinking several hours. The recreation center on Fourth was not as busy. More than 8,000 cans of beer had been sold from these establishments alone on Saturday.
11:05. Sam Greer, chief of the Garnett police, ordered sales in the Spot and Brown Jug to stop. The youths, most of them boys, but with a sprinkling of fresh faced girls among them, bought cases of beer to continue drinking. The price was $6 a case.
11:15. Most of the youths were in the street, yelling and drinking. The crowd was estimated at 1,500. Within minutes, as the sound of the youths spread 1,000 more persons appeared. Many of them were townspeople. They stood on the east side of Main street, east of the square and watched.
Fireworks Were Used
11:30. Cherry bombs began to explode around the four Kansas State Highway Patrolmen, five Garnett officers, and two civil defense patrolmen.
An obscenity was shouted, a cherry bomb was thrown. A youth in a white shirt dashed away with the police in pursuit.
In the alley behind the Brown Jug the youth tried to slug the two patrolmen who were holding him.
"Get these _____," he shouted to seven of this watching buddies. "Get 'em! Get 'em please! They can't do this to me!"
Has Brief Freedom
The youth was subdued. During the walk to the jail, he escaped, only to be caught minutes later.
11:40. The crowd swelled. Beer bottles, a few at first, the hundreds, arched into the air at police officers. The call went out for reinforcements.
The temper of the crowd changed, no longer where they youths on a fun-filled weekend. They were a mob. Someone yelled, "To the jail!" and the mob moved forward. It was repulsed yards from the door.
11:55. The fire alarm siren went off. One of the fire trucks appeared at Fifth and Oak. The youths, incensed and excited, charged toward it.
For the next 25 minutes firemen and the mobs moved back and forth across Fifth street and the water glistened on the asphalt. Some youths were knocked from a flag pole. Cars were sprayed. One youth raced out, cut a line and escaped with part of it.
12:30 A new tactic was tried. Using a bullhorn, police attempted to talk the mob into going home. More cherry bombs and bottles were thrown. Cowdin and James Richardson, Ottawa officers, came into town with tear gas.
From across eastern Kansas other patrol units and police officers raced toward Garnett. The riot was out of control. The youths showed no desire to break any of the numerous windows on Fifth; their main intent seemed to be to injure policemen and storm the jail, a 2 story brick building. About 15 persons suffered cuts and bruises.
12:50 Tear gas was used. It did not work because the wind shifted. Cowdin suffered his attack. By this time several youths had been arrested and taken to jail. Some yelled obscenities at the officers.
Other youths protested their innocence. Other laughed and waved. Many wore Kansas or Missouri university sweatshirts. Most wore Bermuda shorts or cut-off jeans.
Inside the jail the tension was restrained but there. Jerry Hinger and his brother, Don Hinger undersherrif, were armed. Mrs. Don Hinger, who lives with her husband in comfortable quarters behind the radio room, was relieved that their 2-month-old baby was being cared for by her parents who volunteered to help out for the race weekend.
"All I could think was I was glad there were shotguns around." said Mrs. Hinger.
An Attempt Fails
12:55 Another charge was made on the jail, this time to the accompaniment of encouraging yells from the youths in side. The wave failed and ebbed.
Mayor Shell was in and out of the jail. He called Gov. John Anderson. The governor ordered law-enforcement agencies into the area. Police came from as far away as Kansas City, Kansas, Mission, Fairway, Roeland Park, Merriam, Olathe, Chanute, Fort Scott, Leavenworth, Eureka and Topeka.
At the Hotel Richart at Fourth and Oak, eight youths stormed in, intent on gaining the second floor. They were thrown out by residents of the hotel.
Around the square towns people had gathered. They watched silently as the youths packing the streets yelled and milled around, Red, white and blue pennants swung from wires over the youths' heads, markers for the racing spectacle.
Cycle of Quiet,
1:10. The youths continued to taunt the growing number of officers. Members of the Garnett National Guard unit arrived and took positions on the south lawn of the jail. The crowd quieted slightly, but it had done that several times, only to erupt with more violence.
1:30. The death of Capt. Cowdin was announced. Some youths began to leave. A race official announced that unless the youths dispersed, there would be no races Sunday. Many of the youths had run out of beer.
Inside the jail kitchen Larry Wright, an Ottawa officer, received the news of Cowdin's death. He said Cowdin was due to be off at midnight but came in answer to the call for tear gas.
"You know what one of those guys said to me just a minute ago," said Wright. "He said he was a law student at K.U. and he knew his constitutional rights and we were preventing a peaceful assembly. A peaceful assembly, he said"
Coffee Is Made.
Mrs. Jerry Hinger and Mrs. Don Hinger were making coffee and sandwiches. They used four pounds of coffee by dawn. In the kitchen a shotgun lay on the small table. In the child's playroom, a double-barreled shotgun stood against a box of toys.
2:05. State highway patrolmen and police officers moved out from the jail toward the smaller crowd. More arrests were made. Many of the youths fled.
2:15. The headquarters and service batteries of 1st howitzer battalion, 127th artillery, were activated by Governor Anderson. They moved into the area around the racetrack.
2:30. The crowd was smaller but Sheriff Gadelman was worried. Several cars of youths have circled Garnett. There is a report some may be massing at the lake for another foray on the square.
Job Is Present.
"We've got enough we can do with those in front of here," he says.
Loughbridge asked why this happened and answered his own question:
"You can't have a $100 saddle like we have with the races and have a $20 horse like we did tonight as far as police protection. These kids are doing this all over. They did it at Elkhart Lake (Wisconsin) a couple of weeks ago. We had a little trouble last year, but handled it with five men at separate times. Not like this. This is insane."
A final youth was brought in. "I was standing there, not doing anything." he said. "Nothing. Nothing."
"I'm glad to know you guys weren't doing anything, but standing around tonight." said Bill Chamberlain, his eyes hard and his mouth taut.
From the Kansas City Star, Sunday, July 7th, 1963
A 'RIOT' ERUPTS AT CAR EVENT
More than 3,000 Youths Battle Police in Brawl in Garnett, Kas.
FIGHT IN TOWN SQUARE
Tear Gas and State Troopers Used to Subdue Unruly Crowd
By James J. Fisher
Garnett, Kas. -- More than 3,000 teen-agers and college youths battled a handful of law officers and firemen back and forth across the town square here early today.
By 12:40 o'clock the struggle, termed by highway patrolmen as a "full-fledged riot," apparently was being brought under control by the use of tear gas.
From Wide Area.
The youths had come to Garnett from a wide area early yesterday for the start of the Fifth Annual Grand Prix sports car races.
The riot apparently was triggered by two things: Drinking by the youths since the races ended for the day at 4:30 o'clock, and the closing of a tavern, The Jug, by Garnett police at 11:05 o'clock.
About 350 youths had congregated in the huge tavern, and were ordered out because they were boisterous. The closing of the tavern forced the youths onto the streets.
Brawling started among some youths and became a battle with the law when officers interceded. Three fire hoses, manned by Garnett firemen, were used on the youths.
The youths retaliated by throwing beer bottles, beer cans, cherry bombs, other firecrackers and whisky bottles.
Several firemen and police officers suffered cuts and scrapes from the thrown objects.
State highway patrol reinforcements from Ottawa--20 miles north of here--and as far away as Chanute were rushed to Garnett
Help From Troopers.
Law officers from Miami, Anderson and Johnson Counties had been brought in earlier to help quell the riot. They were far outnumbered.
The fire hoses were brought in after a full hour of rioting, directly in front o the Anderson County courthouse and sheriff's office on Fifth street.
About 15 rioters were arrested, some after a struggle.
In an alley behind Fifth street, two law officers cornered a rioter who had thrown a cherry bomb at them. They struggled with him, and the youth's friends moved in with threats. Other officers arrived in time to forestall a serious fight.
The tear gas was fired into a large group of youths at the corner of Fifth and Oak streets, and had an immediate quieting effect.
It was reported that one person suffered a heart attack and was taken to a hospital.
One in Hospital.
One youth was taken to the Garnett hospital after he suffered cuts in a fall while fleeing from officers.
The riot was an unhappy climax to a day of festivity for the people of Garnett. More than 140 sports cars had turned the city park into a spectacle of flashing color and roaring sounds.
It was the first of the two biggest days of the year for Garnett.
For more than 350 drivers, crew members and officials inside the pit area, yesterday was a day of hard work under a boiling sun. The temperature was about 95 degrees.
For about 15,000 spectators, many of them from Greater Kansas City, yesterday was a chance to see some of the fastest, best-built and most expensive cars in the world.
Late yesterday afternoon a traffic jam developed in downtown Garnett, not a common thing in this town of 3,000.
More than one million dollars worth of sports cars took practice laps throughout the morning and afternoon. All were preparing for the races this morning and afternoon when 60,000 persons are expected to jam Garnett.
The one race yesterday, H production, was won by Bruce Hoskins of Kansas City. Richard Alley, Wichita, placed second and Bob Nagel, Bethel Park, Pa., took third. All were driving Sprites.
But the big attraction yesterday was watching the AC Cobras and Chevrolet Corvette Sting Rays and waiting for their duel today.
Head-on Collision.
The Cobras and Sting Rays will race at one o-clock this afternoon in the 45-minute A production battle. Four Cobras, each powered by a Ford Fairlane engine, will meet four Sting Rays, each Chevrolet-powered. There will be no other cardsin the race.
"This is going to be good," a race official said. "A lot of people drive Fords and Chevys. Not many of them drive these exotic cars."
The expected closeness of the race was indicated yesterday by the cars' lap times in practice. All were turning the 2.8 mile course in between 1:54 and 1:56.
Following the A production race will be the C, D, E, F and G modified race at 3:20 o'clock. More than 30 cars will be entered.
Jack Hinkle, Wichita, in a Cooper Monaco, had the best practice time yesterday--a mere 1:53. Dick Thompson, Washington, D.C., covered the course in 1:59.
Harry Heuer, Chicago, driving a Chaparral, and Ed Hamill, Belleville, Ill., in a Cooper Monaco Ford, had times of 1:56.
Many of the drivers here admitted they were looking toward today's races with something less than anticipation. Yesterday's hot temperatures and forecasted hot weather for today may continue to turn the 28 foot wide asphalt track into a soupy, slick and dangerous road.
"That thing is murder," said the driver of a Morgan Plus Four as he came off the track. "The tar and oil are bleeding up through it. And there is sand all over it. I got hit by flying pebbles most of the way around."
Race officials plan to sweep and check the course before this morning's races.
There were two minor mishaps yesterday morning. Neither driver was injured.
Bob Hagestad, Denver, flipped his Porsche roadster just south of the corkscrew turns and was trapped inside for about 10 minutes.
Miss Donna Mae Mims, Pittsburgh, one of two female drivers in the races who placed fourth in H production yesterday, lost the front left wheel of the car she was driving in a practice lap before the race.
Miss Mims wears pink coveralls adorned with sequins and mended with masking tape, all matching her pink Sprite which is named "Think Pink."
A Long Look.
"It just made me mad to have to go all over the place looking for four lug nuts," Miss Mims, a platinum blonde, said.
Many of the spectators huddled under large awnings to protect themselves from the sun. During the afternoon a large bank of thunder clouds built up to the north of Garnett, but rain did not fall.
Concession stands were busy as most of the clubs turned out to help in this non-profit civic enterprise. Most of the food, from cakes to ham sandwiches, was prepared in area homes.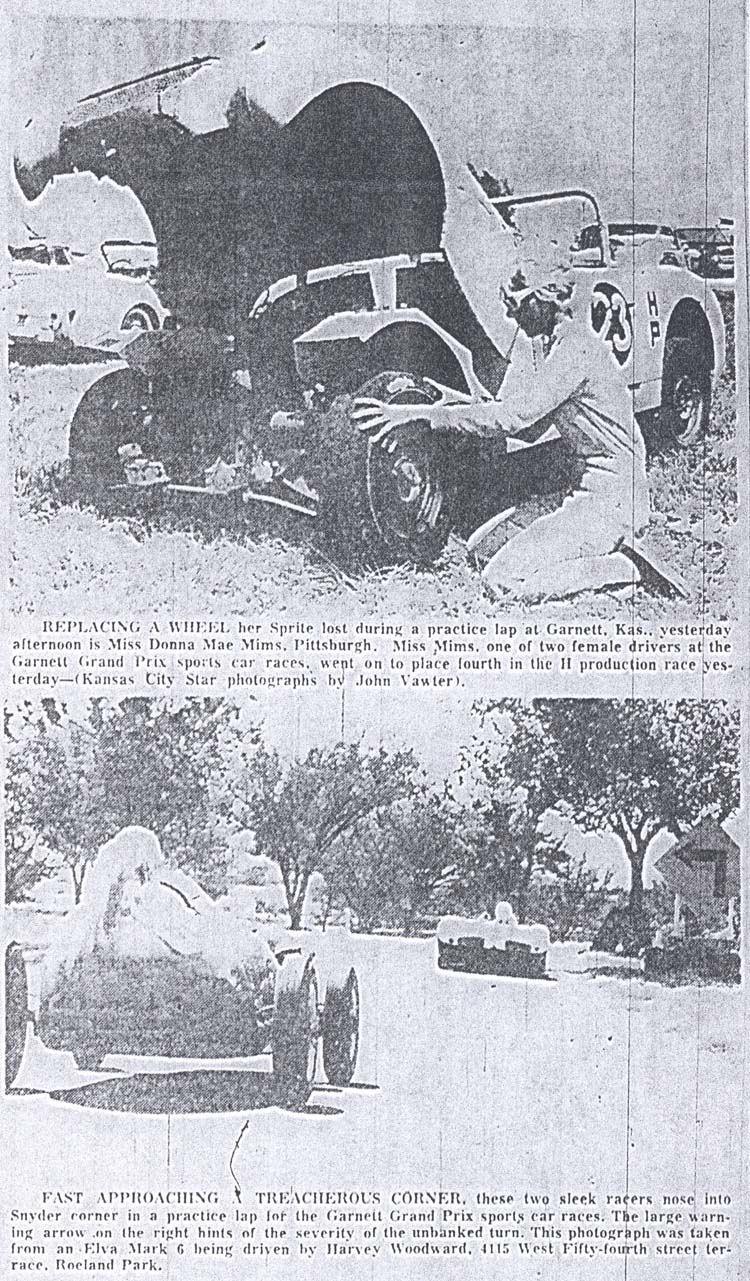 From the Kansas City Star, Earlier in the week.
Sports Car 'Showdown' at Garnett Sunday
Garnett, Kas. -- Two teams, each driving the hottest and fastest American sports cars, will meet here at the annual Garnett Grand Prix sports car race Sunday.
A factory team of AC Cobras, fresh from a one, two, three victory last weekend at Watkins Glen, N.Y., will meet a team of Corvette Stingrays in the A Production race.
It will be on the few times this year that the cars - the Cobra powered by a Ford Fairlane engine, the Stringray by a Chevrolet Corvette engine - have met.
"It's going to be a great race," said a spokesman for the Garnett Racing Association, sponsors of the European type road race.
Ford will sponsor the Cobra team at Garnett, showing again that American motor car manufacturers, long loath to participate in road races like their European counterparts, are up to their neck in speed and horsepower this year.
The Stingray team will be sponsored by Grady Davis, a Corvette dealer. He will also drive.
Other members of the Stingray team will be Dick Thompson, point leader in his class this year, and Donny Yenko.
Bob Johnson, Columbus, O., Ken Miles, Hollywood, Calif., and Dave MacDonald, Detroit, will drive for the Cobra team.
The Cobra is not all American. It's body is made in England.
More than 50,000 people are expected tomorrow and again on Sunday for the races on the 2.8 mile track here. More than 100 cars have been entered.